"Two Sides of the Same Coin"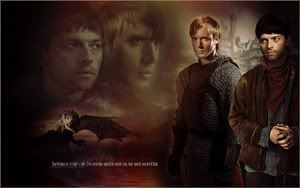 I signed up for the AU/Fusion challenge over at
Groped by an Angel
aka, where I spend most of my life.
This took a really long time. Each photo is obviously manipulated, Dean [Arthur] and Castiel [Merlin].
I just have to say....THE HAIR! I couldn't stop laughing at Castiel's hair. Please never let Cas or Dean have hair like that. Demons would stop and laugh at them; they wouldn't even have the heart to beat on them because their hair is so funny. Reminds me of the Buffy quote, "Buffy? Someone has to talk to her people. That name is striking fear in nobody's hearts."
Comments loved :)