Hey guys! I made this fashion doll from a basic Tyler Wentworth 16" vinyl fashion doll.
First I had to remove her head and hair. (She originally had long red hair). From there she received a full face paint removal and repaint. I redid her eyes to make her look blind. The involved a 'gloss over' with white and blue. I also removed the horrid red lips and replaced them with a neutral color. Her eyebrows were also removed and repainted. She originally had light red eyebrows. They were repainted in black with a skeptical slant to them. I mean, she
is
Toph right?
She also received a general darkening of the skin tone to look like dirt. I kept and enhanced the natural blush. Finally, I painted 'dirt' on both the tops and bottoms of her feet. She looks like a true earth bender with dirt all over her. The dirt is really brown/black paint. All paint was sealed with a matte sealer.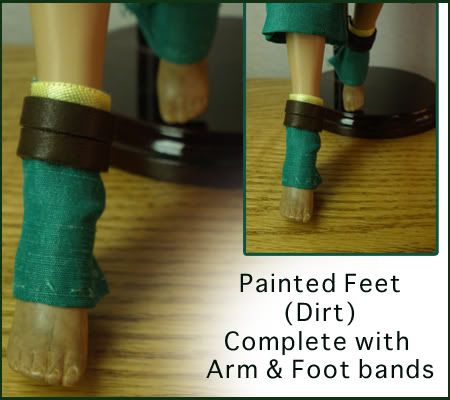 Next I created with hand sewing the arm and ankle bands. They are sewn around the arms and feet and therefore cannot be removed. Each arm/foot band is made of the same green fabric as the pants and shirt. A real leather band lays between the yellow ribbon and green fabric. These were hand stitched and have some flaws in stitching.
After that I made the headband. The head band was also hand sewn and is made of matching yellow and green fabrics the outfit is made of. The headband can be tied around her head with leather strips. The headband also has fluffy white balls on each side, to replicate Toph's headband from the show.
The outfit is sewn on a machine and is fully lined. When removed, the outer tunic reveals a top and pants set. The top and outer tunic close with matching snaps.
Her belt is made of fake leather with painted silver dots to simulate metal. The belt ties with leather straps.
Her wig is removable. It is made of black fur and can be styled in multiple ways. The bangs are extra long to simulate Toph's bangs. The back is currently cut to be spiky in the back. I wanted a mix of the younger Toph seen in the show and an older Toph.
Over all, she turned out beautiful and I am very, very proud.
If you are unfamiliar with a Tonner Tyler Doll, you can check out their website here:
http://www.tonnerdoll.com/
Each doll retails about
$179.99
-- They are not meant to be played with by younger children, but because Robert Tonner believes in the Power of Play, they are made of Vinyl and NOT porcelain. Therefore, Toph can be played with by older children.
If you have any comments or questions, I would love to hear from you! I made her for myself for fun, but because I am working on a few other projects (including Doctor River Song from Doctor Who) I am looking to sell her to a good home. Considering the nude, basic dolls retail about $75 plus all the work into the outfit and accessories, I would like to sell her for about
$150-$200
. If you are interested or know someone who is interested, please
email
me at antoinette.schicchi@gmail.com -- I'm willing to negotiate prices, so please just contact me if you are interested.
Thank you so much for looking!!! Please cross post and send to other Avatar Fans. I would love for her to go to a loving home.
"Avatar: The Last Airbender" and all references to it are owned by Nickelodeon, a subsidiary of Viacom. My doll was inspired by the show and is in no way affiliated with Nickelodeon or Viacom.
Current Music: Michael Jackson